Bringing covid calculator to life in a week
We created a covid calculator together with V4 Legal, which helps people find out what government financial aid they can claim due to the coronavirus.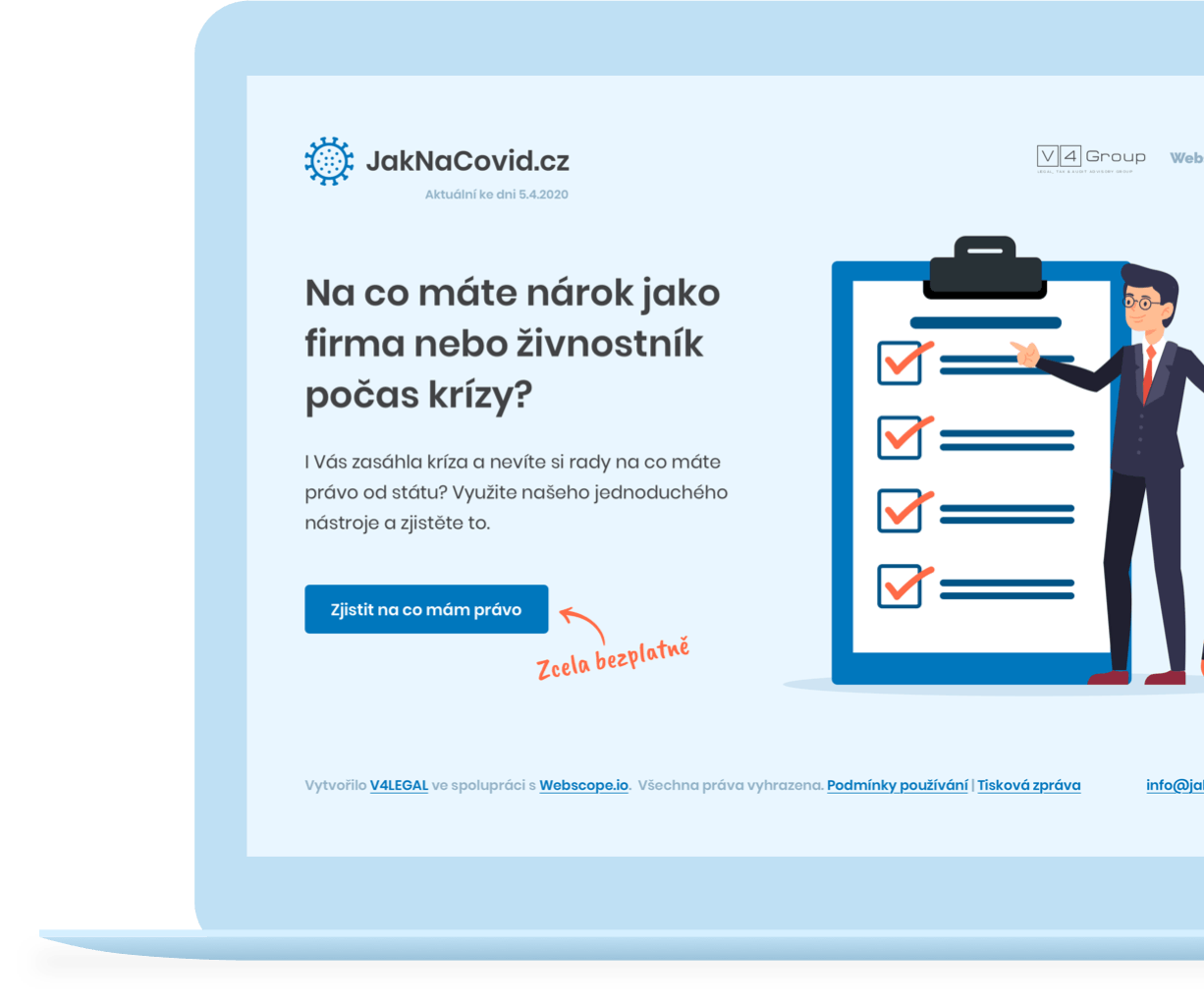 React,
TypeScript,
Firebase
the Czech Ministry of Trade
It's a project that we have created in cooperation with the Czech Law firm
V4 Legal
during the coronavirus times. JakNaCovid is a simple calculator which after answering a few questions about your employment, entrepreneurship, and some other details, will tell you what
government financial aid
you could claim due to the coronavirus.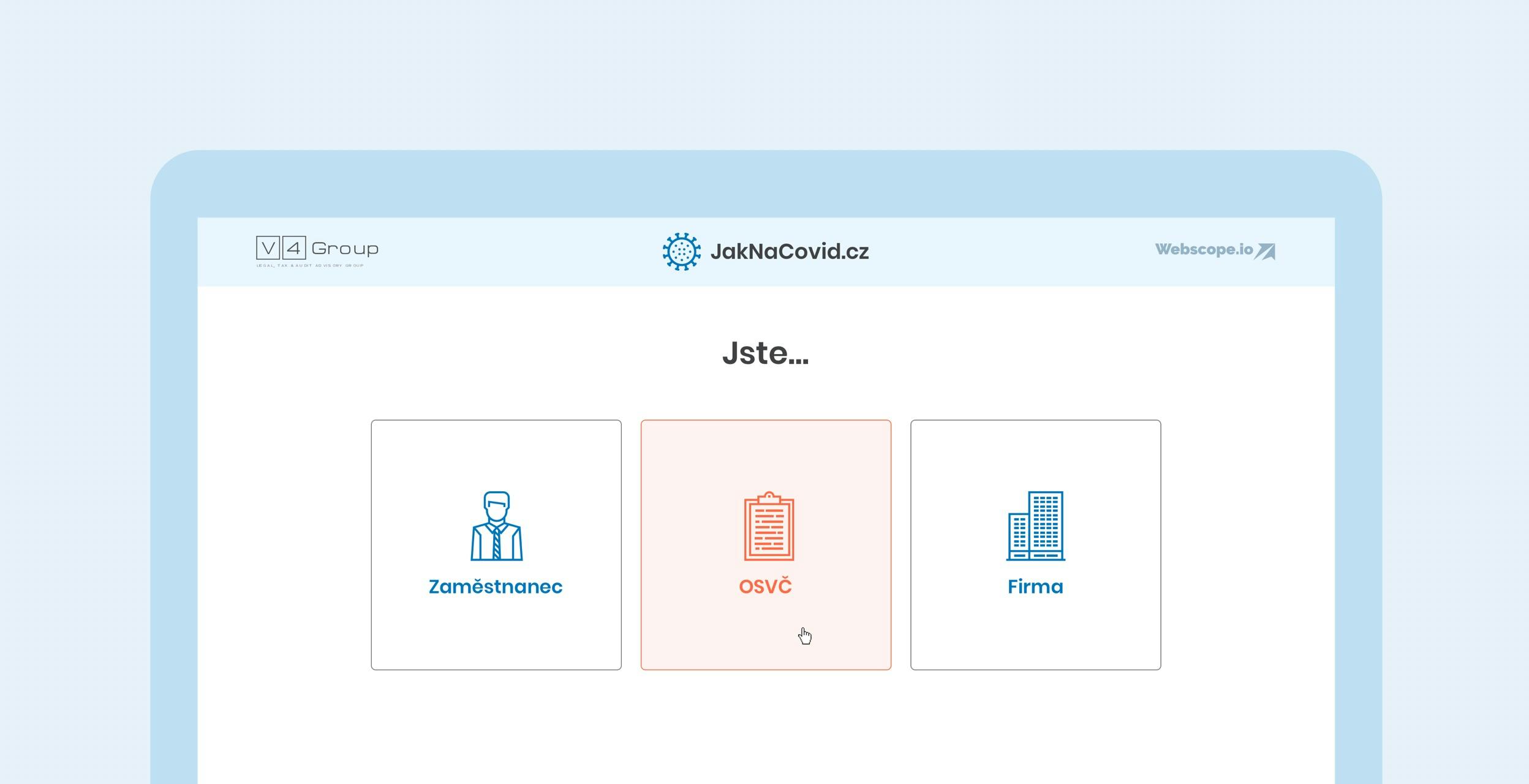 Why Did We Develop JakNaCovid?
Together with V4 Legal, we realized that the Czech government was introducing one government financial aid after another with continuously changing the conditions about who is eligible for the financial assistance and who isn't.
There were lots of
questions and uncertainty
out there - people didn't know and couldn't easily find out what financial aid they could claim. Therefore, we decided to act quickly and
help people get an overview
of all of the government's financial benefits (aid) in one place.
Technologies And a Tough Nut to Crack
As for the tech-side, the project didn't bring a challenge we weren't prepared for. Both the design and implementation stages proceeded smoothly. We were able to iterate a production-ready application with our partners at V4 Legal within a week.
As this project was all about timing - therefore quick delivery - the most challenging part indeed was developing a
good-enough
and
well-arranged framework
. A framework that would enable a non-IT person (a law expert) to describe a decision process the customer would be able to follow to retrieve the most helpful information on time.
We ended up designing a
decision-tree framework
, that allowed our partners at V4 Legal to describe the decision process using a set of nested questions and conditions, to achieve the desired result.
An interesting fact is, the decision tree, as well as condition set files, were each more than a thousand lines long. This is a great reflection of the very complex real-world system of crisis management in the Czech Republic.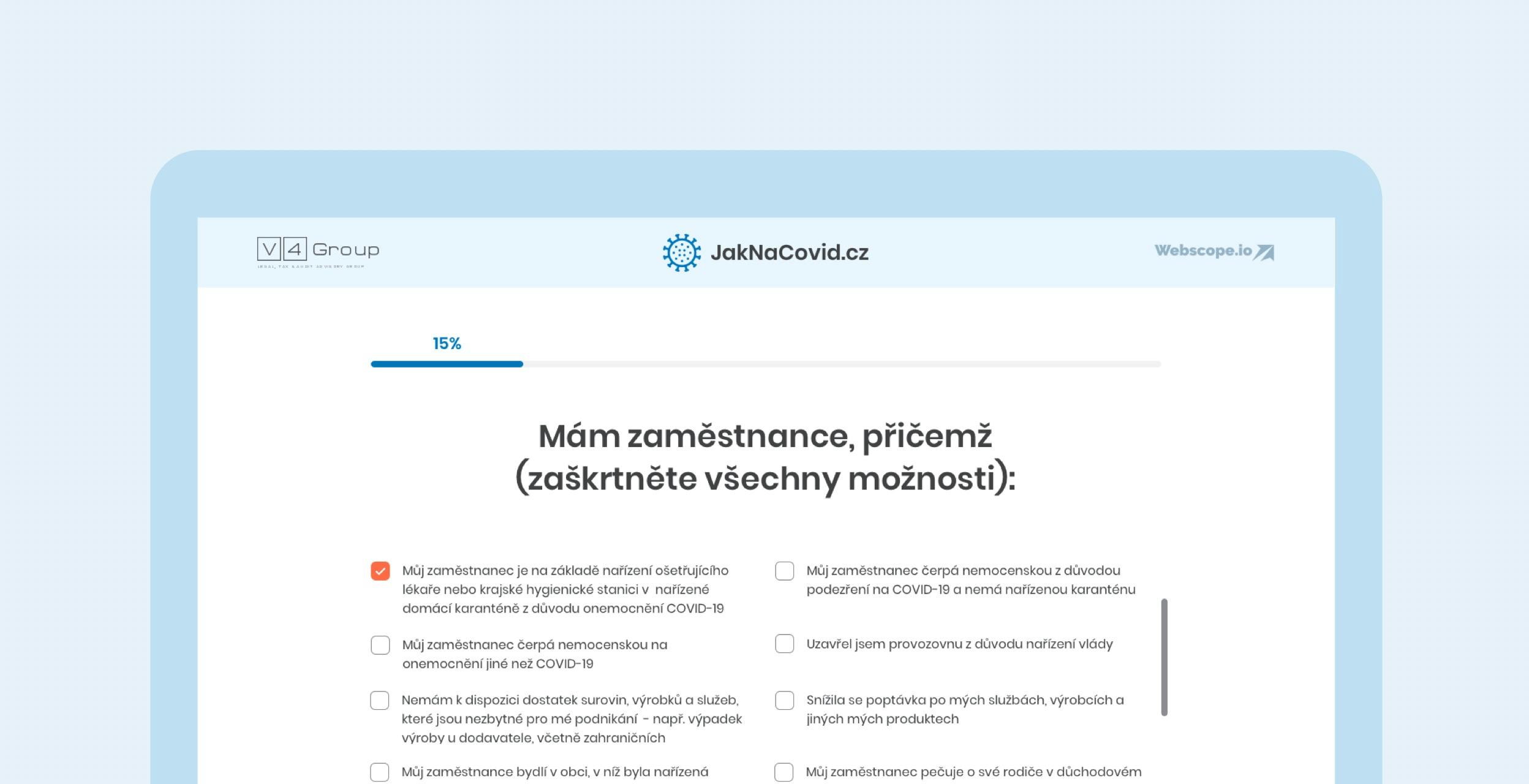 The JakNaCovid project has been partially managed by the Webscope development team, and partly by the V4Legal team. Webscope was responsible not only for the development and design, but we also contributed by spreading the word about the project. Thanks to great teamwork, collaboration, and communication with V4 Legal, we managed to get JakNaCovid to
multiple websites
supporting
entrepreneurs
,
official associations
, and to sites about
the law
.
The Czech Ministry of Industry and Trade
has also tweeted JakNaCovid on Twitter.
Looking back, we perceive the project as one big success. Given the fact that we didn't have much time and wanted to launch the project as soon as possible, we did a
great job together with V4 Legal
. We hope that we managed to help people find out information much easily about government financial aid.
Now it's time to talk about your project